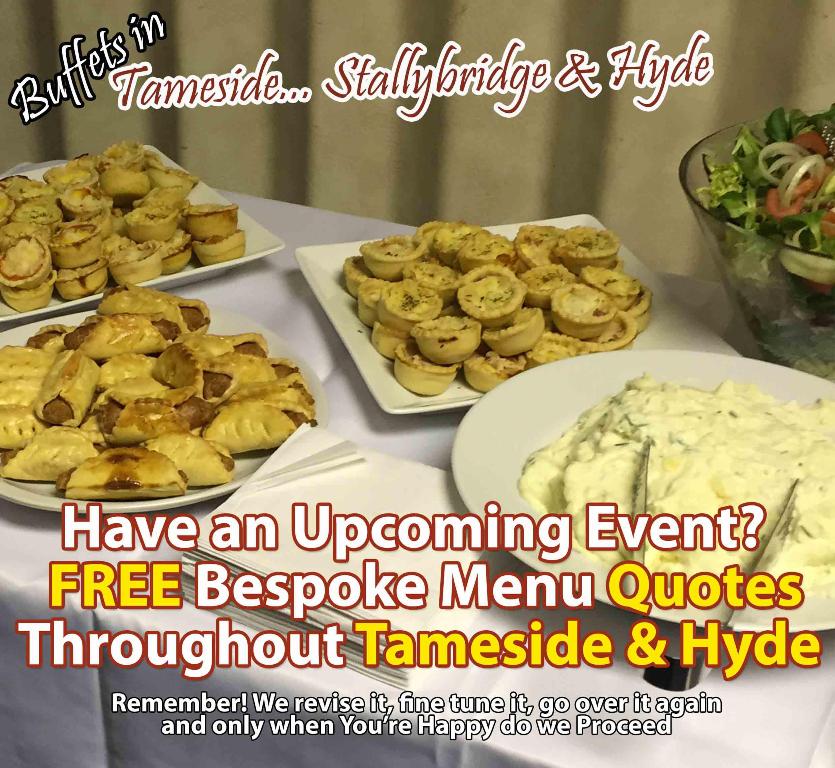 A bespoke Quote in 30mins or See Menus to Order Online
Your Finest Buffet Catering Delivery and Buffet Caterer in Stalybridge, Hyde and Tameside areas for office, weddings, corporate, business or any party events of indeed even a Potato Pie Supper

Looking for a Quality Premier caterer and Free Quotes from a Premium Corporate Buffet Catering Company in the North West servicing Stalybridge and Tameside for Private, Corporate, Business, Office and Wedding Event find the best Catering Companies; and bespoke menus, whatever the event need or where ever you are in Stalybridge and Tameside be it Catering for Hot Buffets, Cold Buffets; Business Lunches; Vegetarian Dishes; Home Baked Cakes & Desserts; Family events, Private Parties, Corporate and office events, Product Launches, picnics, Weddings or any event catering needs or indeed any catering equipment hire needs; delivered free to your workplace, home or other event venue of choice.
Whether quotes for fixed menus, we have the best choice of event catering menus in Stalybridge and Tameside. You can also ask for a custom menu when you are after that sensational service for dinner parties, corporate events, weddings and more that will just about suit your taste.
Finger or Cold Buffet Catering Menus, your food will be delivered on suitable Food comes "dressed out" on suitable platters (either disposable, black laminate or white porcelain) ready to put straight on the table or buffet.
We offer a Full Catering Service in Tameside including:
· Cold fork buffet menus.
· Hot and Cold fork buffets
· BBQs and Hog Roast Menus
· Meat Potato Pie Suppers

· Office/Business/Corporate lunch menus,
· Hot and Cold buffet menus
· Christmas Menu;
· Breakfast Buffet Menu
· Organic buffet catering Menus
· Kids Party Menus
· Business buffet menus
· Gourmet Catering menu
· Seasonal Menus
· Wedding buffet menus
· Corporate Catering menus
· Breakfast Menus
These carefully chosen Services can be delivered in Stalybridge and Tameside will bring you the best in buffet catering with buffets for canapés, dinners, hog roasts, barbecues, pie and peas, and mouth-watering desserts ready at your fingertips. Stalybridge and Tameside catering companies cater for the wider Stalybridge and Tameside areas including Ashton-under-Lyne, Droylsden, Dukinfield, Mossley, Stalybridge,Audenshaw, Broadbottom, Denton, Gee Cross, Haughton Green, Hollingworth, Hurst, Hyde, Longdendale, Mickelhurst, Millbrook and Mottram and all areas in between.
For your upcoming Wedding events; Christening events; Office parties, Private Parties and business or corporate events we we're here on hand in Stalybridge and Tameside areas ready to water your mouth. Our catering Experience ensures we prepare the finest food that not only adheres to best standards but will beat your expectations. Whether you are looking for a traditional offering or an innovative and imaginative buffet style or simple a blend of the two, Benons Catering – The North West's Premier Caterer is the right choice for you.
Buffet Catering in Manchester for Weddings, Business, Corporate, Office, Party Events. For Hot and Cold Buffets, Children's Parties, Kid's Wedding, Business, Corporate, Office, Party and Events, Hot and Cold Buffets, Children's Parties, Kid's Parties, Funerals, Graduation, Retirement events, Affordable buffets